Wed, 29 Sep
|
ZOOM WEBINAR – Link to follow
National Outdoor Education Conference PRECURSOR (Online)
Get a taste for the big event (NOEC 2022) and also be more informed about the year ahead with this online event specifically for the Outdoor education sector.
The Outdoor Council of Australia will be providing an update on the National Outdoors Summit and the key topics being investigated by the various working groups.
We encourage all members of the outdoors sector to sign up and join in.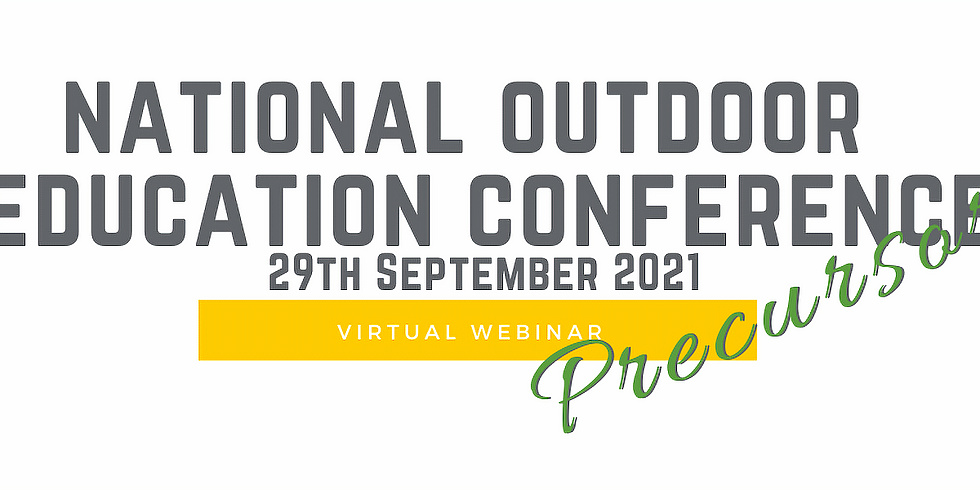 Time & Location
29 Sep, 10:30 am – 4:00 pm AEST
ZOOM WEBINAR
About the Event
As recently advised, the current COVID-19 situation has forced the postponement of the main event until September 2022, but we are delighted to bring all our industry and participants to the NOEC "Precursor" event via an online experience.
This event will run from 10:30am am to 4:00 pm (AEST) on 29th September 2021, with breaks following each session so there is time for delegates to fit a little work in between or times to grab a cuppa.
Topics will include an expert panel on the learnings navigating fires and COVID-19 including Shane Fitzsimmons AFSM, ACARA Curriculum Review with CEO David de Carvalho, updates from the OCA Summit, and Working Groups, Nature Play Innovations with Pasi Sahlberg, and the Outdoor Education Awards.
All registrations that have booked and paid for NOEC 2022 prior to the 25th of July will receive the link to join this session.
If you haven't booked your NOEC 2022 tickets as yet, you can still be part of this special event for $30 per person including all fees.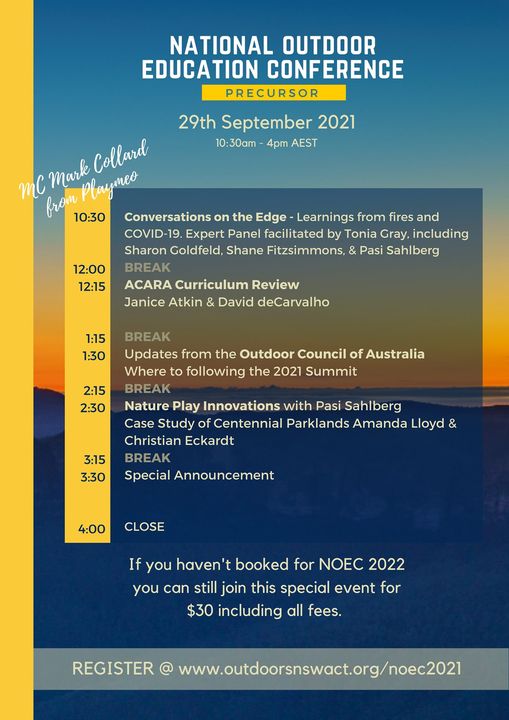 Lessons Learnt During Hard Times:
An event not to be missed for Outdoor Educators, Parents, Teachers, Therapists and Community Leaders:
Leadership is straightforward when things are going well, but true leaders emerge when the going gets tough. Whilst 2020-2021 was pretty much a disaster for outdoor educators, it was also especially hard for students from low SES or marginalised communities. COVID-19 and the Black Summer Bushfires gave time to push the reset button and reflect on what matters most. It became abundantly clear that recent disasters not only break us, it revealed that wider systemic factors were already broken.
Shane Fitzsimmons is now the Head of Resilience NSW and previously the Commissioner of the New South Wales Rural Fire Service between September 2007 and April 2020 (during the Black Summer Fires). As an acclaimed leader, will share his wisdom and offer concrete ideas to navigate our way forward as a resilient community.
Professor Sharon Goldfeld is a paediatrician, public health physician, and Co-Group Leader of Policy and Equity at the Murdoch Children's Research Institute and Director of the Centre for Community Child Health at The Royal Children's Hospital Melbourne. Her research program focuses on investigating, testing and translating sustainable policy relevant solutions that eliminate inequities for Australia's children. One positive aspect to emerge for Prof Sharon Goldfeld was 'COVID taught us we can do slow system change, fast'. She will speak about what needs to happen in 2021 and beyond in terms of child wellbeing and equity.
Professor Pasi Sahlberg, now lives with his family in Australia and is at the Gonski Institute UNSW. As a schoolteacher, teacher-educator, researcher, and policy advisor in Finland, Pasi will talk about Growing Up Digital and the impact on Australia's school children. His career includes senior education specialist at the Finland's National Board of Education, World Bank in Washington, DC, lead education specialist at the European Training Foundation in Torino (Italy), director general of the Ministry of Education and Culture (CIMO) in Finland, and a visiting professor at Harvard University. Pasi has served as a commissioner in the Swedish School Commission, advisor to the Minister of Education in Malta, and Minister of Education in Finland.