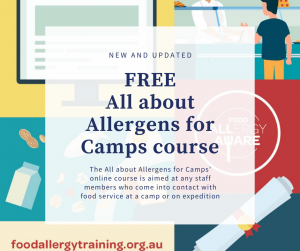 Exciting news! the All about Allergens for Camps has been updated to be a single course!
Previously camp staff needed to complete the original All about Allergens course and the Next Step for Cooks and Chefs: Camps.
Now camp staff just need to complete one combined course which takes 1-1.5 hours to complete. Enrol today:
The All about Allergens for Camps course has been developed specifically for staff who prepare, serve and supervise meals in camps, to gain knowledge about food allergens, and to develop best practice procedures.
This course is suitable for all staff preparing and serving food in camp facilities.
https://foodallergytraining.org.au/course/index.php?categoryid=6
As outdoors professionals we are well aware of the increasing complexity of providing safe and nutritious food for camp and led outdoor activity participants with food intolerances and allergies, as well as those with religious, lifestyle and other dietary needs.
The All about Allergens for Camps' online course is aimed at any staff members who come into contact with food service at a camp or on expedition – including kitchen staff and anyone involved in serving food either in the camp setting (including in dining rooms and in a picnic setting) or remotely.
The National Allergy Strategy is an initiative of the Australasian Society of Clinical Immunology and Allergy (ASCIA) and Allergy & Anaphylaxis Australia (A&AA), as the leading medical and patient organisations for allergy in Australia.
www.nationalallergystrategy.org.au