In this section:
The Journal of Outdoor and Environmental Education (JOEE) is an international journal of the outdoor profession owned and published by the Outdoor Council of Australia.
It continues the Australian Journal of Outdoor Education (AJOE).
The journal provides an academic forum in which empirical and non-empirical research concerning outdoor and environmental education can be shared and discussed by an international authorship and readership. It is published biannually and sent to subscribers, also being accessible through online content repositories such as Proquest and EBSCO.
Access the Editorial, Table of Contents and Abstracts for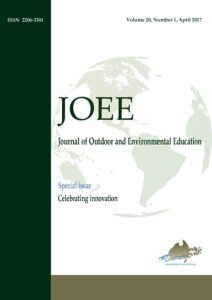 current issue:
Previous issues: