In this section:
Our Members
Membership of the Council is open to state and national organisations that support the mission and objects of the Council to promote equitable access to safe, high quality and sustainable outdoor recreation and outdoor education. The Council is currently seeking new members who identify with these goals and want to make an impact on outdoor education and recreation in Australia.
OCA Banners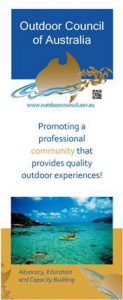 The OCA currently has 3 pull up banners available for members to display at conferences, functions and workshops.
These are available in Queensland, Victoria and South Australia.
Please contact (details above):
Queensland Outdoor Recreation Federation
Australian Camps Association
Christian Venues Association
Any members wishing to purchase their own banners should contact the OCA Secretariat.