In this section:
Our Members
OCA Banners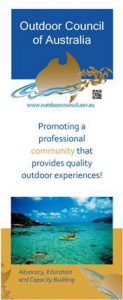 The OCA currently has 3 pull up banners available for members to display at conferences, functions and workshops.
These are available in Queensland, Victoria and South Australia.
Please contact (details above):
Queensland Outdoor Recreation Federation
Australian Camps Association
Christian Venues Association
Any members wishing to purchase their own banners should contact the OCA Secretariat.